The Digital Reporting Convention #drc20 is a unique event with a clear focus on digital reporting. Along with reporting specialists from international top companies you will dedicate two days virtually from wherever you are to discussing a variety of topics around the future of corporate reporting. You cannot attend all sessions? Not a problem: You can also choose your topic of interest and participate in single sessions. Take this chance to learn from industry leaders and reporting specialists.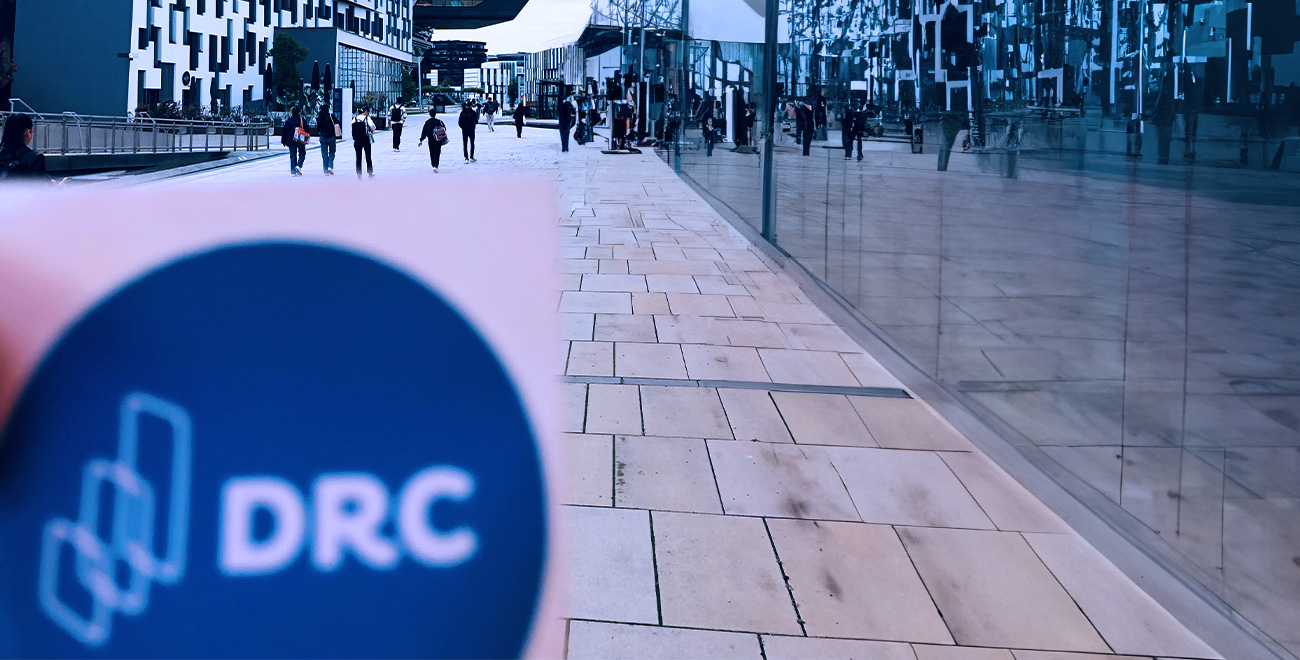 get ready for the digital future!
We would like to invite you to various digital sessions on two days:
Thursday, Sept 17, from 9:00 a.m. to 4:00 p.m. and
Friday, Sept 18, from 9:00 a.m. to 2:30 p.m.
All participants can use the DRC as a platform for the mutual exchange of experience and gain new ideas, impulses and impressions for the further development of future reports.
topics.
crisis and digital opportunity
While the coronavirus pandemic has created many new and demanding challenges, it has also created a perfect setting for digital development, speeding up digitalisation in almost all aspects of our information and communication environment. For companies, this is a unique opportunity to rethink their corporate reporting strategy.
digital information design
Today reports are predominantly read on screen. Despite this apparent usage trend, those who build the report mostly do not consider the specific digital needs in the content creation process. In this workshop we want to focus on what it means to rethink structure, concept and design for screen devices and how the digital channel can be better exploited.
case study: adidas
adidas is striving for a new and innovative approach with their online report. In addition to a new visual design concept and many interactive features, one key element of the report is the active communication of specific reporting content via social media channels (push reporting). In this session adidas shares their first-hand experience.
XBRL
as added value
Digital financial reporting is inseparably linked with the term XBRL. The technical standard, which was developed with the goal to improve the processing of financial data 20 years ago, is now mandatory in more than 70 countries and considered useful by more than 130 regulators. However, its potential in financial communications has not yet been fully discovered.
case study: Merck
Companies spend very little time communicating corporate reports – in comparison to the time, money and effort invested in their production. Push Reporting refers to concepts for active digital communication of corporate reports. Learn how Merck Group successfully used it to achieve more than 60,000 additional visits for their Corporate Responsibility Report.
ESEF & XBRL: audit & regulation
Companies all over Europe are preparing for an inevitable future requirement: XBRL tagging of specific content in annual reports. But how will XBRL influence the auditing and regulation process? In this session we provide answers to important questions such as: How does XBRL auditing work in practice? What does the auditor focus on?
wire on fire: reporting matters
Could it be that the companies that choose to report reactively instead of proactively are less transparent and have something to hide? One particular example where this seems to be the case is Wirecard. Research by the Leipzig Graduate School of Management (HHL) also shows that online reports are seen positively by the financial community as a sign of proactive financial communication.
fit for XBRL
XBRL is coming. All stock-listed European companies will be required to include XBRL tags in their 2020 annual reports. In this session we prepare you for the XBRL tagging of your financial statements. We clarify last questions about the taxonomy, address the auditing and give important tips. You also learn how to provide the full XHTML report including all relevant XBRL tags.
digital impact/
SDG reporting
Sustainability Reporting is constantly developing: instead of merely describing the past, focus increasingly shifts towards outlooks and impact. Online reporting gives companies new opportunities, to disclose their value creation and performance in the light of the Sustainable Development Goals (SDGs) in a stakeholder-oriented way.
board communication
Studies say that the portrayal of the management board can have a great impact on investment decisions. Annual reports have enormous potential for good board communication. But how can this potential be exploited? Which possibilities do online reports offer to position the CEO and the managing board?
case study: Clariant
With integrated reporting the online report is gaining even more importance as a publication channel. Digital reports provide solutions to important communication problems of today's integrated reports: they offer technical possibilities to reduce complexity, connect financial and non-financial content and explain the company's business model.
mobile reporting
Experts say the mobile Internet use will reach 28% in 2020. Today almost every digital report is mobile-optimised (Responsive Design). But companies often only fulfill the "minimum standards". How to optimise e.g. infographics and interactive solutions for mobile devices? In this session, we will go into detail on a few best practice examples of mobile reporting.
use of digital integrated reports
How do stakeholders use integrated reports? Do they specifically access content suggested by the framework and non-financial information? A big-data analysis by the Vienna University of Economics and Business Administration can provide answers to these question for the first time.
best practice concept & design
When it comes to online reporting, even the most creative concept is only suitable if it transports the company's corporate identity. But what exactly are the latest trends in design? And what makes a design concept stand out? This session will provide some best practice examples from 2019 online reports.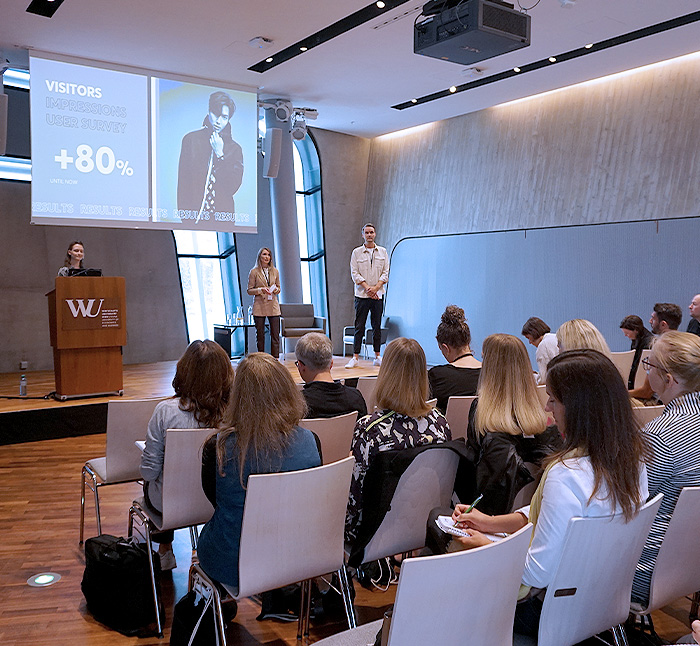 what last year's participants say.
Around forty reporting experts from 25 international companies met on August 31, 2018 for the Round Table "Digital Reporting" in Vienna. The participants agreed that report information will be used even more digitally in the future. Where exactly the journey was headed was a question that all participants were keen to discuss.
adidas
The DRC is one of the most inspiring reporting events I have attended so far. One of my favorites was to learn how a smart online design concept can help elevate your report without compromising on quality, trustworthiness and professionalism of the content.

Isabel Strauß
Eni
Taking part in the DRC has enabled us to significantly improve our new digital reporting systems and in doing so gain both national and international recognition. The best practices outlined here have led to us rethinking the visual aspects and the UIX of our products and coming up with a promotional plan for much more effective digital reporting systems.

Paolo Pestelli
Daimler
Compared to other reporting events, the DRC stands out with its hands-on flair, clear focus on digital reporting trends and an open and discussion-oriented atmosphere.

Rolf Bassermann
Wacker
For me, the DRC offers the best opportunity to get to know current technical and content trends in digital reporting - and to discuss them openly and critically. In addition, the exchange with colleagues from other companies broadens my horizons.

Joachim Zdzieblo
CCI Muenster
The DRC took place in a pleasant, constructive atmosphere. It encouraged an intensive exchange with companies and enriching panel discussions.

Prof. Gisela Grosse
Deutsche Telekom
The DRC is an all-round successful event hosted by digital enthusiasts for all those who want to go on a digital journey in corporate reporting. After enjoying two days filled with inspiring insights, exchange and networking in beautiful Vienna, we were highly convinced and motivated to take the next step in digital reporting and go for Online First.

Deborah Knabe
Merck
I really enjoyed the DRC offering deep and hands-on insight around digital reporting trends in a casual setting. I rarely joined a similar event where presenters with such passion showed best-practice examples and were really open to sharing their knowledge.

Judith Rahner
Bayer
The DRC is a unique platform for exchanging information with communication professionals on current topics in digital reporting. The event offers the opportunity to share best practices in order to develop target-group oriented and multichannel-grasping formats.

Sami Joost
OMV
OMV invests in the development of a comprehensive sustainability report. I learned from the DRC discussion that we need to unlock the full potential provided by online reporting and a digital communications campaign.

Bernhard Heneis
BASF
The DRC offers a great mix of best practice exchange and insights into future trends. The creative and friendly atmosphere enabled inspiring and lively discussions.

Jennifer Moore-Braun
Among last year's participants
organisers and partners.
The Digital Reporting Convention is organised by nexxar, the Vienna University of Economics and Business Administration (scientific partner) and the St. Pölten University of Applied Sciences (organisational partner).
The event is supported by AMANA, MESSAGE, BDO Austria and CIRA Austria.